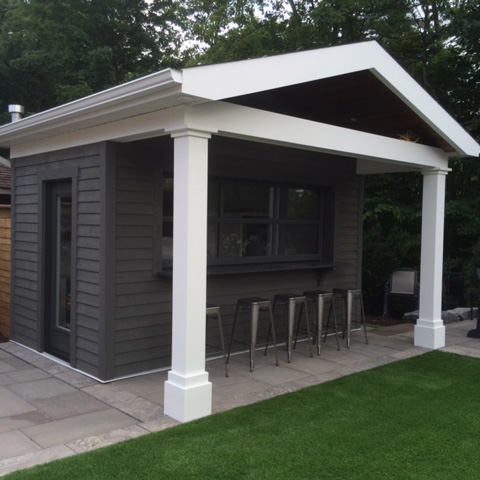 With a focus on improving your home's efficiency and offering environmentally friendly materials and building practices, we will design and construct your project to any required fit and finish. Honesty, integrity, professionalism and dependability are the pillars that form our team's foundation. An extended network of qualified and professional trades guarantee any desired finish can be achieved.
Full project management from design, engineering and execution

Energy efficient material and building practices

All projects undertaken from contemporary to classic to modern, all completed with quality in mind

Fully insured and licensed

Satisfaction guaranteed

From small projects to complete builds

HVAC, roofing, electrical, plumbing, tile setting, flooring, conventional framing, ICF construction, custom cabinetry, masonry and millwork
WHAT OUR CUSTOMERS ARE SAYING
"Glenn and I would like to thank you for helping to create a beautiful home for us to enjoy. The front and back decks are beautiful and made our garden oasis a reality. Our master ensuite is stunning.  You created a spa that we thoroughly enjoy. The attention to detail and superior skills you and your team possess shone through in all the work you have done for us. We highly recommend Downey Carpentry to anyone who is seeking excellence!"
"Everyone who walks in the front door now raves about the craftsmanship and the detail to work; its great to see this space has been revitalized and has become useful for the entire family."
"Doug your range of skill and knowledge is bar none. The speed and efficiency that Downey Carpentry brought to this project made it a pleasure to have you and your team in our home and this was clearly evident in the progress that was made day over day."
"We appreciate you keeping us informed every step of the way and helping us navigate our budget with other cost effective options. The ability for a contractor to be given a budget and then achieve this goal at the end of the project is a skill that should be well noted to other customers interested in using your services."
"Doug you are an honest individual and should be proud of the team that you have working alongside you. We would recommend you to anyone thinking about doing a project large or small and we look forward to the next one together."
"We are thrilled to have a new room, previously never used, to entertain in."
"I highly recommend Downey Carpentry for any job. Doug's workmanship is excellent and he did an awesome job. We are extremely happy with the quality of service!"
"My husband and I have been delighted with the creativity, attention to detail, understanding of careful budgeting, and overall professionalism of Downey carpentry. Doug has a way of understanding what his clients are saying and taking it to the next level, always keeping price in mind. Highly recommended. You can't do better!"
"I just want to say how COMPLETELY impressed we are with every single thing that has been done. I loved this house from the day we bought it, but have never, ever loved it more. The quality and value of your workmanship  is incredible. Everything looks so good.  What a pleasure to work with you."
"My wife and I are in love with our new kitchen! We were thoroughly impressed with the Downey Carpentry team throughout the renovation process - from concept/design to installation. The level of craftsmanship is immediately evident when you look around our kitchen. Thank you very much for making our dream kitchen a reality!"
"Doug, Jessica and the entire team were fantastic to deal with. I have yet to see anyone as clean as this bunch considering the messy job they were faced with! Every night it was like they were never there. Thank you all so much for such an amazing transformation, Doug was able to pull off every idea we shot out LOL!"